Hello world! Please change me in Site Preferences -> This Category/Section -> Lower Description Bar
Court Marriage in Baghpat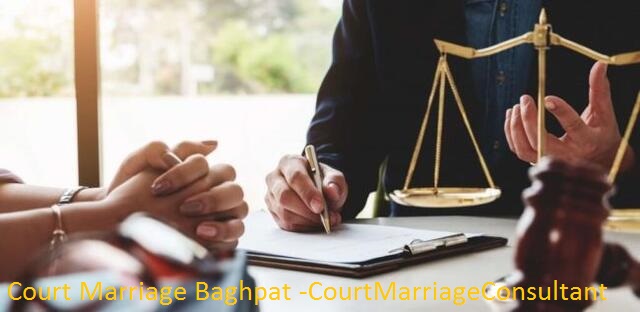 We offer Court Marriage in Baghpat services to the client on their requirement. Court marriage is a legal way of marriage in India. The two partners irrespective of their caste and religion can marry on their mutual consent through court marriage. The court marriage certificate, which you receive after marriage, is an important certificate. It is proof related to your marriage. Additionally, it acts as a government identity proof in India showing a legal relationship between two people.
Registration Procedure for Court Marriage in Baghpat
The two partners can use the legal way of court marriage to marry. It happens only on mutual consent between two people. The first thing for the Court Marriage in Baghpat is to fill out the application form and then, submit it to the marriage registrar of the district. Here is the list of documents that are necessary to attach to the marriage application form.
The requirement is the 6 photographs of the bride and groom with the marriage application form.
Attach the address proof in the application such as an aadhar card, voter Id card, PAN card, and rent agreement.
The identity proofs required include a driving license, PAN card, and voter ID card.
Obtain a divorce decree from the court if you earlier married someone and submit in court.
Earlier, you married someone and your spouse passed away. In that case, submit the death certificate of your spouse with the PAN card and address proof accordingly.
Court Marriage in Baghpat  under the Special Marriage Act of 1954
Submit an application in your court marriage jurisdiction
Attach all the documents accordingly with the Marriage application form and submit them to the district marriage office. It is when you want to perform your Marriage with your partner according to the Special Marriage Act 1954. Anyone submitting the application for Marriage needs to reside in the place for at least 30 days time.
The notice period of court marriage
If you want to marry your partner according to the Special Marriage Act 1954 then, give the notice to the district marriage officer in 30 days' time. The bride and groom marry in 4 months' time from when the notice is issued.
Public notices and objections
The Special Marriage Act 1954 specifies that the marriage officer starts with the proceedings of issuing the notice after receiving the marriage application. Court Marriage Consultant is the Best Platform for Court Marriages in Baghpat, Court Marriages in Delhi NCR, and Court Marriages in Ghaziabad. Court Marriage Baghpat.
Also Read: Court Marriage in Gurgaon