Hello world! Please change me in Site Preferences -> This Category/Section -> Lower Description Bar
Welcome To Court Marriage Consultant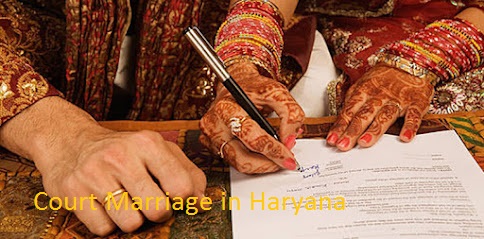 "Looking For Court Marriage in Haryana"
Court Marriage in Haryana can be performed easily, securely, and safely. You and your partners want to marry with mutual consent. The first thing that the partners need to do is prepare the application form.
Additionally, they have to attach all the necessary documents with it. Court marriage is a common procedure of marriage in India. It is legal so that two persons can marry at their will irrespective of their caste and religion. Article 15 of the Indian constitution mentions that the two persons eligible for marriage can marry by court marriage.
Why is it Beneficial to do Court Marriage in Haryana?
The process of Court marriage in Haryana is simple and economical. Furthermore, it can save money spent on the rituals and gifts at Indian weddings. You want to do a court marriage with your partner.
The procedure is that you or your partner reside in you are district for at least 30 days. Only in that location, you can put your marriage application to the marriage registrar in court.
The marriage laws applied in India are Special Marriage Act and Hindu Marriage Act. Therefore, marriage between two partners can happen in India based on the regulations in the marriage acts.
Documents Required Presenting for the Marriage registration
6 photos need to attach of the groom and bride along with their marriage application form.
The government IDs required for the address verification are an aadhar card, passport, PAN card, and voter card.
The birth certificate or class 10th certificate of the two parties is to attach to the marriage application form.
The divorced person getting married then, the person requires to submit the divorce decree in court.
The earlier married person's spouse passed away and that person is marrying again. In this case, submit the death certificate of the person with the ID proofs attached to it in court.
Eligibility Criteria for Court Marriage in Haryana
The bride's age should be 18 years old and the groom's age is 21 years old.
The marriage happening between two people should be on their mutual consent.
The two parties agreed of marriage should be in their sound mind at the time making their decisions.
Both parties should not be in any active relationship at the time of their marriage.
The Indians do not allow some blood relationships should get into any relationship and then, marry.
Also Read: Court Marriage in Bulandshahr
Contact: 9810526264